For your holiday in the 3-star hotel Die Kleine Post in Sulden
Information for your holiday in Die kleine Post
Address: Die kleine Post, Hauptstr. 20, 39029 Sulden am Ortler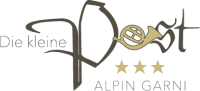 Arrival & rooms
Arrival:
Contact information Hotel Die kleine Post: Hauptstr. 25, 39029 Sulden am Ortler
In Italian: Strada Principale 25, 39029 Solda sull'Ortles.
Use our route planner for detailed directions - just click on the map at the bottom of this page and enter your starting point.
Parking: Free parking directly at the hotel.
Check-in: The rooms are available from 2:00 pm
Check-out: We kindly ask you to vacate your room by 10:00 am on your departure day.
Reception: The reception desk in the Hotel Die kleine Post is open daily until 10:00 pm
Active in the Ortler region
Location: Our 3-star Hotel die kleine Post is located in the center of the mountain village Sulden at an altitude of 1,900 meter. 
Activities:
The infrastructure in Sulden is very well developed. You can hike directly from the hotel. The mountain railways are within walking distance of the hotel. The skiing season starts in November. In winter, the ski bus departs directly from the hotel door. The Alpine School Sulden and the Ski School Sulden offer a wide range of courses and guided tours - also mountaineering tours to the Ortler or the Königsspitze.
Find more information about activities in Sulden on the website of our nearby 4-star Superior Hotel die Post. Active on the Ortler Mountain
Hotel prices, payment methods, cancellation conditions
Hotel prices: Our hotel prices are per person and night.
Breakfast & half board: The rooms can be booked with breakfast or half board. With half board you will enjoy a 4-course dinner at the Hotel Die Kleine Post. 
Children's prices: Children up to 3 years of age stay free in their parents' room, children from 3-14 years receive a 50% discount. 
Holidays with your dog: Your four-legged darling is very welcome at the Hotel Die kleine Post. We ask you to bring a sleeping blanket for your dog. We also ask you to keep your dog on a leash in the hotel out of consideration for other guests. Outside the hotel, in the Stilfserjoch National Park, leashes are mandatory. Per overnight stay we charge € 10 (without food) for your dog.
Booking & deposit: Bookings are valid after written confirmation and a deposit of € 100,- per room. You can enter your credit card number or send a bank transfer to Hotel Post Wallnöfer Andreas. Please state "Angeld" and your name as the reason for payment.
Bank information: Garni die kleine Post, Sparkasse Südtirol, Filiale Sulden, BIC: CRBZIT2B028, IBAN: IT88 K060 4558 9490 0000 5000 667
Method of payment: You can pay your room bill with cash, EC-Card or the following credit cards: Visa, Mastercard.
Cancellation: Up to 90 days before the start of the holiday there are no cancellation fees. From 90 to 28 days before arrival we charge € 100,- per room, from 28 days before arrival 70% of the booked arrangement. In case of early departure, the full amount will be charged. We recommend taking out travel cancellation insurance.
Visitor's tax: The local visitor's tax is € 1,50 per person and day (from 14 years). The visitor's tax is charged in addition to the price of the overnight stay.
Alpin Spa Hotel die Post
Offers in the 4-star Superior Hotel
Our Alpin Spa Hotel die Post is only a few minutes' walk from Hotel die Kleine Post.
Restaurant at the hotel: We will be happy to reserve a table for you for lunch or dinner in advance in the restaurant of our sister hotel Die Post. 

Mountain bike rentals: € 8 per person and day, on request
E-mountain bike rental: on request, € 8 per person & day
Outdoor highlights: Participation in personally guided hikes with the state-certified hiking guide Dagmar from the Alpin Spa Hotel die Post. By appointment ( up to one day before), € 8 per person. Rental poles and backpacks are available.
Gymnastics & fitness studio:  Participation in the gymnastics program according to the weekly activity program  € 8 per person & day
Childcare: The "Kinderwelt" for children from 3 years is open in winter from 2:00pm-10:00pm and in summer from 10:00am-10:00pm.
1 hour = € 12
2 hours= € 20
3 hours= € 25
1 day= € 35
Hotel die kleine Post
More information
If you have questions about a holiday in the 3-star Hotel Die kleine Post in Sulden am Ortler, please contact us:
Telephone +39 0473 613650
E-mail: info@diekleinepost.it